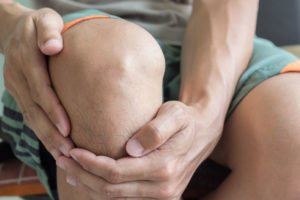 Knee injuries are prevalent among athletes, especially those in sports that involve rapid stops, starts, and changes of direction. Ranging in severity, both acute and overuse knee injuries can sideline athletes for extended periods. But by understanding the common sports knee injuries, athletes can know when to seek treatment for a faster recovery.
Top Sports Knee Injuries
ACL Injuries
The ACL, or anterior cruciate ligament, is a key ligament in the knee joint for stabilization. In athletes, especially those who play basketball, soccer, and football, it's highly vulnerable to injury. Any activity that involves fast pivots can create the risk of an ACL injury. Additionally, many athletes incur ACL injuries after landing from a jump.
The main symptoms of an ACL injury are a reduced range of motion, pain while walking, knee instability, and sensitivity along the line of the knee joint. 
Patellar Tendinitis
Tendinitis is a condition that causes inflammation in the tendons. Patellar tendinitis, which impacts the tendon over the patella, or kneecap, is a common overuse injury among athletes. This tendon, called the patellar tendon, is essential for movements including jumping, kicking, and pedaling. If athletes perform motions involving the patellar tendon too frequently, tendinitis may develop. 
The most common symptoms of patellar tendinitis include sharp pain below the kneecap during physical activity and dull, aching pain after physical activity. Inflammation may also be present beneath the kneecap. 
Runner's Knee
Officially called patellofemoral pain syndrome, runner's knee is a common sports injury causing pain at the front of the knee. It may be caused by overuse, an abnormality in the structure of the knee, or the motion of walking or running in some athletes. Poor strength in the thigh muscles and tight Achilles tendons or hamstrings can also lead to runner's knee in athletes. 
Typical symptoms of runner's knee include kneecap pain or tenderness, as well as grinding, clicking, or rubbing in the kneecap with movement.
Visit Suncoast Orthopaedic Surgery & Sports Medicine for the treatment of sports injuries impacting the knee joint.